Page 48 - SAD1920_11Sept
P. 48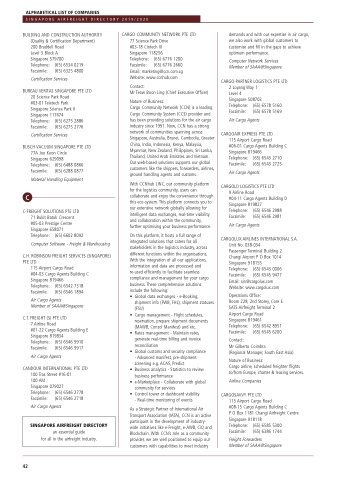 ALPHABETICAL LIST OF COMPANIES
SINGAPORE AIRFREIGHT DIRECTORY 2019/2020
BUILDING AND CONSTRUCTION AUTHORITY (Quality & Certi cation Department) 200 Braddell Road
Level 3 Block A
Singapore 579700 Telephone: (65) 6534 0219 Facsimile: (65) 6325 4800
Certi cation Services
BUREAU VERITAS SINGAPORE PTE LTD 20 Science Park Road
#03-01 Teletech Park
Singapore Science Park II Singapore 117674
CARGO COMMUNITY NETWORK PTE LTD 77 Science Park Drive
#03-18 Cintech III
Singapore 118256
Telephone: (65) 6776 1200 Facsimile: (65) 6776 2660 Email: marketing@ccn.com.sg Website: www.ccnhub.com
Contact:
Mr Teow Boon Ling (Chief Executive Of cer)
Nature of Business:
Cargo Community Network (CCN) is a leading Cargo Community System (CCS) provider and has been providing solutions for the air cargo industry since 1991. Now, CCN has a strong network of communities spanning across Singapore, Australia, Brunei, Cambodia, Greater China, India, Indonesia, Kenya, Malaysia, Myanmar, New Zealand, Philippines, Sri Lanka, Thailand, United Arab Emirates and Vietnam. Our web-based solutions supports our global customers like the shippers, forwarders, airlines, ground handling agents and customs.
With CCNhub LINC, our community platform for the logistics community, users can collaborate and enjoy the convenience through this eco-system. This platform connects you to our extensive network globally allowing for intelligent data exchanges, real-time visibility and collaboration within the community, further optimising your business performance.
On this platform, it hosts a full range of integrated solutions that caters for all stakeholders in the logistics industry, across different functions within the organisations. With the integration of all our applications, information and data are processed and re-used ef ciently to facilitate seamless compliance and management for your cargo business. These comprehensive solutions include the following:
• Global data exchanges - e-Booking, shipment info (FWB, FHL), shipment statuses (FSU)
• Cargo management - Flight schedules, reservation, prepare shipment documents (MAWB, Consol Manifest) and etc.
• Rates management - Maintain rates, generate real-time billing and invoice reconciliation
• Global customs and security compliance - Advanced manifest, pre-shipment screening e.g. ACAS, Predict
• Business analytics - Statistics to review business performance
• e-Marketplace - Collaborate with global community for services
• Control tower or dashboard visibility - Real-time monitoring of events
As a Strategic Partner of International Air Transport Association (IATA), CCN is an active participant in the development of industry- wide initiatives like e-Freight, e-AWB, CiQ and Blockchain. With CCN's role as a community provider, we are well positioned to equip our customers with capabilities to meet industry
demands and with our expertise in air cargo, we also work with global customers to customise and  ll in the gaps to achieve optimum performance.
Computer Network Services Member of SAAA@Singapore
CARGO-PARTNER LOGISTICS PTE LTD 2 Loyang Way 1
Level 4
Singapore 508703
Telephone: Facsimile:
(65) 6275 2886 (65) 6275 2776
Air Cargo Agents
CARGOAIR EXPRESS PTE LTD
115 Airport Cargo Road
#06-01 Cargo Agents Building C Singapore 819466
Certi cation Services
BUSCH VACUUM SINGAPORE PTE LTD 77A Joo Koon Circle
Singapore 629098
Telephone: Facsimile:
(65) 6543 2710 (65) 6543 2725
Telephone: Facsimile:
(65) 6488 0866 (65) 6288 0877
Air Cargo Agents
CARGOLD LOGISTICS PTE LTD 9 Airline Road
#04-11 Cargo Agents Building D Singapore 819827
Telephone: (65) 6546 2988 Facsimile: (65) 6546 2981
Air Cargo Agents
CARGOLUX AIRLINES INTERNATIONAL S.A. Unit No. 038-034
Passenger Terminal Building 2 Changi Airport P O Box 1014 Singapore 918155 Telephone: (65) 6543 0006 Facsimile: (65) 6545 9477 Email: sin@cargolux.com Website: www.cargolux.com
Operations Of ce:
Room 228, 2nd Storey, Core E SATS Airfreight Terminal 2 Airport Cargo Road
Singapore 819461
Material Handling Equipment
C
C-FREIGHT SOLUTIONS PTE LTD 71 Bukit Batok Crescent #05-03 Prestige Centre Singapore 658071 Telephone: (65) 6602 8092
Computer Software - Freight & Warehousing
C.H. ROBINSON FREIGHT SERVICES (SINGAPORE) PTE LTD
115 Airport Cargo Road
#04-03 Cargo Agents Building C Singapore 819466
Telephone: (65) 6542 7318 Facsimile: (65) 6546 1894
Air Cargo Agents
Member of SAAA@Singapore
C.T. FREIGHT (S) PTE LTD 7 Airline Road
#01-22 Cargo Agents Building E Singapore 819834
Telephone: Facsimile:
(65) 6542 8951 (65) 6545 6200
Telephone: Facsimile:
(65) 6578 5160 (65) 6578 5169
Telephone: Facsimile:
(65) 6546 9910 (65) 6546 9917
Contact:
Mr Gilberto Coimbra
(Regional Manager, South East Asia)
Nature of Business:
Cargo airline, scheduled freighter  ights to/from Europe, charter & leasing services.
Airline Companies
CARGOSAVVY PTE LTD
115 Airport Cargo Road
#08-15 Cargo Agents Building C
P O Box 1181 Changi Airfreight Centre Singapore 918118
Telephone: (65) 6585 5300 Facsimile: (65) 6386 1744
Freight Forwarders
Member of SAAA@Singapore
Air Cargo Agents
CANDOUR INTERNATIONAL PTE LTD 100 Tras Street #16-01
100 AM
Singapore 079027
Telephone: Facsimile:
(65) 6546 2778 (65) 6546 2718
Air Cargo Agents
42
SINGAPORE AIRFREIGHT DIRECTORY
an essential guide
for all in the airfreight industry.